While other photo brands are busy announcing their latest and greatest digital cameras, Kodak has a rather unusual unveiling: it's
bringing back the legendary Super 8 camera

as a film product with digital features.
"Super 8 is 50 years old. Now it is making a comeback among filmmakers – amateurs and professionals alike," Kodak tells PetaPixel. "The trend is analogous to the resurgence in interest in vinyl records — an 'analog renaissance'."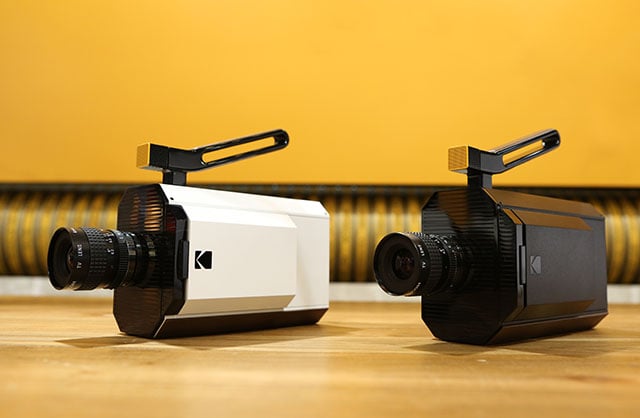 This new camera is part of Kodak's broader effort to keep film alive as a medium. A number of major recent Hollywood films were shot on Kodak film — the biggest being the new
Star Wars
— and 2016 is set to be the year that
Kodak's film business becomes profitable again
.
The new Kodak Super 8 camera combines classic features with digital functionality. There's a 3.5-inch swiveling digital viewfinder for framing shots, but those shots are captured on Super 8 Kodak film — each film cartridge contains 50 feet (15m) of film.
On the front of the camera is a fixed 6mm Ricoh lens (or, optionally, a 6-48mm zoom lens). There's also a job wheel user interface, a built-in light meter, cartridge detection, exposure control, manual speed/iris setting, and charging the battery via a USB wall adapter.
The process is designed to be as painless as possible from start to finish. Once you're done exposing the film (at 9, 12, 18, 24, or 25 fps), you send it back to Kodak, which will process it, scan it, and deliver it back to you as a digital copy and as an 8mm film that you can use in projectors.
I have not had my hands on this camera as of yet but it looks very interesting and top notch. I mean, Kodak. That's original and trusted for sure!
Please read more on Kodak's New Super 8 Digital movie cameras for wedding and other more generic video production at PetaPixel's Website below:
http://petapixel.com/2016/01/06/kodak-is-bringing-back-the-super-8-as-a-film-camera-with-digital-features
Check out this related blog post on photography and wedding videography and use of digital cameras
here: http://randomphoto.blogspot.com/